I know this question will come up, and since I often refer to myself as a "fat guy" or "fat dude" even though I'm really not anymore, I thought I would address it. My wonderful friend Traci asked me this in the comments of the first post:
But when do you start being Regular Weight Guy? Seems like that'd be now?
So, why do I embrace the "fat dude" label?
It's tough for me, because I know "fat" is a hurtful label. I hate fat jokes. I often get mad when fat people are the easy target for jokes. I find it offensive as a fat dude, and as a lover of comedy. One of my favorite shows on TV is The Soup. I love Joel McCale, that being said…
Joel Mchale is an asshole whose reliance on Fat Jokes diminishes him as a comedian. I get it. Fat people eat a lot. Natural Skinny people, like Joel McHale seems to be, do not seem to get what a struggle it is to not eat a lot. Norm MacDonald would sometimes tell a fat joke that made me laugh, albeit cringingly. Joel McHale tells the same fat joke over and over again. I love Joel and he makes fun of a lot of different kinds of people, but usually his jokes on race, celebrity, sexuality, gender are blunt, but clever. The fat joke is the same one over and over again.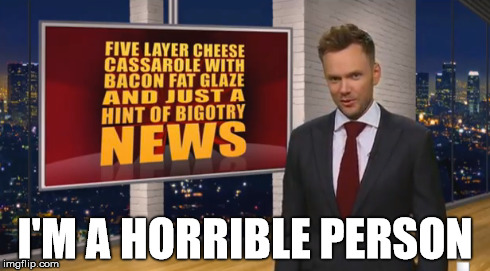 Also, every time I hear him, it makes me want to shove food into my face hole. The worst food ever. Right into my face hole.
Maybe I am just too sensitive.
(Also, I think it's worth noting that Joel himself will say he's not a good person so I doubt he would be bothered by me calling him an asshole. My guess is that he accepts that label as much as I accept the Fat Dude label)
I had one friend talk about her struggle with weight loss on Facebook. Most people were supportive and encouraging. Yet, God save me from the well meaning pretentious assholes who think that Fat people don't know how to lose weight and it's up to them and their naturally skinny ass to advise them on just how to do it. One guy came on to encourage my friend saying "Losing weight isn't hard. Beating Heroine addiction is hard."
That guy is just a bit of an asshole. A well meaning asshole.
Listen my skinny friends. Food is something we have to eat to live. There is no initial choice to "eat." We all HAVE to eat. No one HAS to start taking heroin. Imagine telling a heroin addict that it's not that they take heroin, but they need to make better choices in how much and what type of heroin they take. Imagine telling a fat person to quit eating cold turkey.
Listen, my well meaning naturally skinny friends. There is no fat person alive that doesn't know that in order to lose weight, they need to stop eating as much, eat healthier and exercise. When you, my naturally skinny friend, give me weight loss tips, you make me want to jam a box of sour cream donuts into my facehole. You make me scared to eat near you because I imagine you judging every bite I take so instead, I hide in my cave shoving Butterscotch Krimpets and Cheesesteaks into my facehole. I had a doctor, a healt care professional who I paid to advise me on all things medical tell me, "Just start eating half of what you are eating now." No nutritional help. Just cut my snack Whopper in half. Eat only half the family sized bag of Doritos. A quarter dozen donuts instead of a half dozen.
So. why do I use the term?
Partly because it was hurtful. I need to embrace how being fat made me feel. I need to remember how those fat jokes hurt me. Even now, I find myself judging people. I have to force myself not to make a comment when someone starts talking about how they need to diet, as they are eating what I consider crap. I need to remember why I ate like I did. I need to remember how complicated the interaction between food and emotions is. I need to remember what it is the be a "fat guy" so I don't contribute to someone's emotional need to eat.
This is why I never give unsolicited weight loss advice. This is why I explain that what worked for me, may not be the right way for any other person in the universe.
The Call It Lifetime for a Reason
The second reason I call myself a "Fat Dude" is well, I am still a fat dude. I still walk into Wawa and want to buy 6 of their donuts and eat them. If I think of myself as The Regular Weight guy, I am not sure what will happen. I see some people who are "skinny" and watch what they eat and know that if I eat like that I would gain 50lbs back in no time. This is not because they eat wrong, but because once I begin to eat that way, I am not sure where I will stop. Once again, when I see something labeled as Family Sized, I will think, "Hey, I'm single. I claim no dependents on my Income Tax. I am a Family."
I am not a family. I can't eat like one.
Lastly, and this is the negative side. I call myself a Fat guy, because I still feel like a fat guy. I see all my excess skin, and bulgy areas, and see other people with much better physical conditions and I feel fat. I still feel like every time I eat, people are judging me. I still hate talking about my weight. I don't like when people comment on what I am eating, because I still feel ashamed when I eat, even if it's a salad or healthy snack. I still see a woman I am interested in and attracted to, and think "there is no way she would be interested in a fat guy." This mentality I know is counter productive. I know eventually I could have plastic surgery to improve parts of my body that were screwed up by being nearly 600lbs, although I am not sure if that is a financial option for me. Yet, even then, I would still feel like a fat guy. Maybe someday I will work out that issue. My friends tell me that they like me, fat, or otherwise. I believe them.
I don't really believe them.